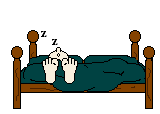 I woke up feeling quite groggy. It took a while to shake it off. The morning went well considering. I usually get out of bed about 5:50 am to get a head start before the kids arrive and before my grandson wakes up. This way, I usually have time to have something hot to drink, prep my grandson's breakfast and sit a minute to watch the news while I finish waking up.
This morning went particularly well. All the kids arrived late, but at the same time and my grandson woke up as the doorbell was ringing!...lol! The kids usually start arriving at 7:10 am or so. Today they arrived more like 8:05 am. I have my usual three preschool boys and my grandson. However, my daughter took him with her to meet with his father to take pictures today and to spend the day together....which is very unusual. I have hopes that it will turn into a regular occurrence.

I had a conversation with a dear friend of mine whom I have not spoken with in a long time. He helped me a lot with the fibro by doing research on how to care for it. I had forgotten that eating fresh veggies and fruits really make a difference in reducing the symptoms. So, I sent my boys to the grocery store for salad supplies and fruits.
In addition, there is a free jazz concert this weekend and I asked him to come up and go with me. We are looking in to the arrangements. This is something we use to do as friends all the time. It would be a nice outing for the weekend :).