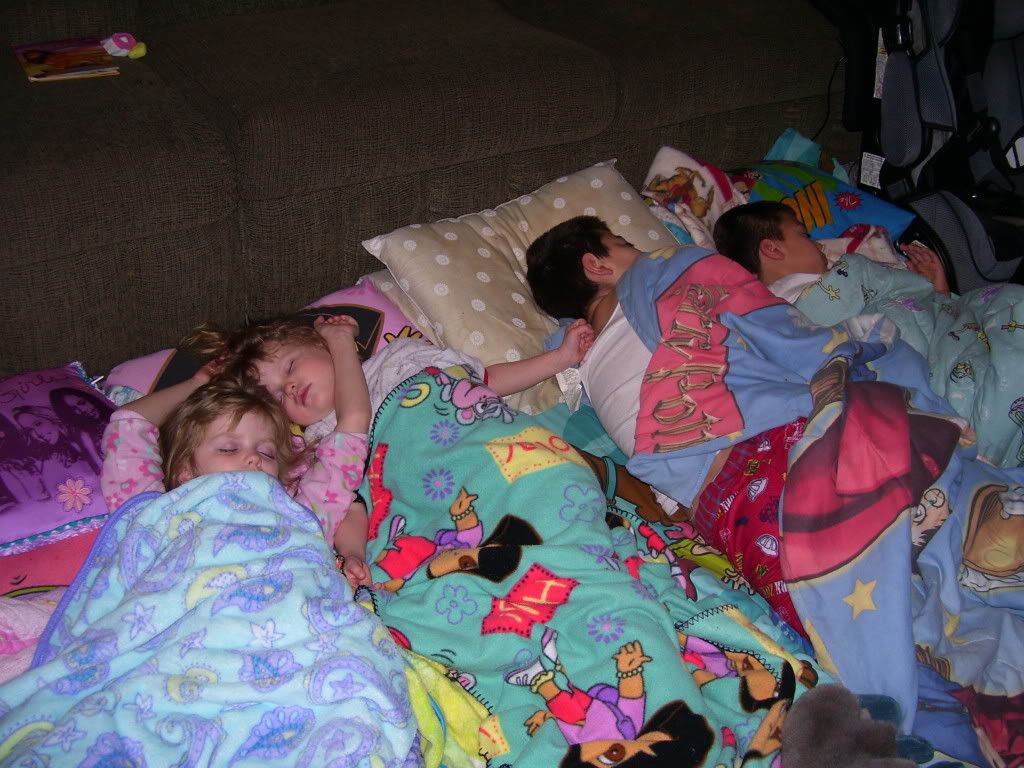 Today is over. It was very good for good for a monday. Especially considering I had kids on saturday and sunday.
Once again, a fellow day care provider said to me, "It's a mind game." Perhaps she's right. It's not to say that I won't have my share of bad days. This week's late nights are monday, tuesday, wednesday and friday.
Right now, I am sitting at my desk with all the kids laying on their beds on the floor writing this blog entry. I have my pj's on and the room is dimly lit with one small lamp. The kids are very quiet as they watch "Jungle Book". My grandson is toddling around but he's pretty concentrated on a small toy truck. I think it is very important to stay organized with a steady routine (these are not actually my kids in this picture, but it's pretty much how my family room floor looks about now...lol).
The morning started off a tad rough, but I simply went with the flow rather than try to resist. I had planned to have the kids do their lesson first thing in the morning. However, my daughter came in with lots of happy energy and prepared breakfast, my son was on his laptop at the kitchen table and Ms. G from across the street came over to borrow my computer.
So, after everyone left, I prepped lunch for the kids, let them play a bit more before feeding them, then put them down for nap. I got them up an hour early and did lesson with them. When my school aged boy arrived, I had him do his homework while the little ones finished up their work. Then every one had snack and went outside to play. By dinner time, everyone was pretty exhausted. The early kids went home and I fed the rest dinner. They played some more before settling in for the night.
I know, why am I so excited? Boring huh? Unfortuantely, I count on each day being a success, primarily for myself. Because I am prone to depression, I challenge each day to be some form of success, especially with a housefull of children. Other than the day care, I have to life....sad huh? So, I have determined within myself to make the best of what I have.
Sorry if my life is so boring. I really know it is.