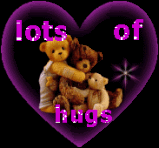 It is monday and it feels like it. I do have a major treat this week and that is my oldest boy is home for Spring Break. I love it when I have all four of my children together. It is so nice to see them as young adults and really handling life pretty well.
When my oldest boy graduated from high school, he tried moving out "his" way a couple of ways. His dad and I discussed that he can explore and experiment a little before we decided to make some choices for him. Then it would be time for him to live with dad and develop his "manhood". Well, that plan happened rather quickly, about a year after graduation.
Since he has been living iwth thier dad, all has been going very well. He is a tall, good looking, smart young man. This is the first time I've been separated from him for a long period of time. As we mothers do, we are concerned and worried that they are ok until we see them again. I will have him for the whole week and I can finally exhale for a little while.
I always dread when it is time for him to go back to dad's. I always miss him so much and it just feels like he will be gone for so very long. It is a tough job for mom to let go and let her little children become young adults. Their dad reassures me frequently that he is doing well and tha the is keeping an eye on him.