I want to send a big, big shout out to my friend Polly! She is such a warm, caring and tender hearted friend whom I met through the world of blogging. She has sent me an award that I am in so much appreciation of. She has termed me the "Comment Queen"...I happily accept...:)
Unfortunately, I feel like a silly because I have no idea how to transfer it to my blog!...lol! I have tried and tried.
Please! If anyone can help, I am all ears!
Ooooh! Look! My son just showed me how! Yes, it was quite simple!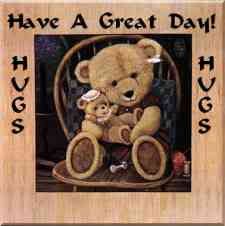 Thank you soooo much Polly! In my appreciation, here's a teddy bear hug for you!
Now, as Polly has demonstrated, we are to extend our award onto a fellow friend. I have chosen that friend to be Linda and Her Twaddle I love how she expresses her normal, everyday thoughts. She's so realistic while being so tactful with the truth. Good going Linda :)!